Zofran Fetal Growth Restriction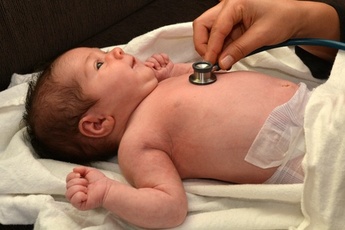 An increased risk of fetal growth restriction may be associated with Zofran, an anti-nausea drug that has been used to treat millions of expectant mothers. A growing number of studies have also linked this medication to serious birth defects when used during the first trimester of pregnancy.
Consider Filing a Zofran Lawsuit
You may be eligible to file a Zofran lawsuit for fetal growth restriction if your baby was exposed to this medication during the first trimester of pregnancy. To learn more about your legal rights, please call (888) 994-5118 to contact an attorney at Bernstein Liebhard LLP.
Zofran and Fetal Growth Restriction
Zofran is an anti-nausea drug that has been marketed in the U.S. by GlaxoSmithKline since 1991. Its approved indication are currently limited to the treatment of nausea and vomiting experienced by post-op surgery patients or those undergoing certain cancer treatments. However, a recent analysis indicated that as many a 1 million women annually have been prescribed the drug in the U.S. to treat pregnancy-related nausea and vomiting.
Fetal-growth restriction, also known as intrauterine growth restriction (IUGR), occurs when an unborn baby fails to grow at an appropriate rate while in the womb. During the pregnancy, the measurement from the mother's pubic bone to the top of the uterus (uterine fundal height) will be smaller than expected for the baby's gestational age. The condition is usually confirmed by an ultrasound.
While the cause of fetal growth restriction is not known, certain factors may increase the risk for this potentially serious pregnancy complication:
Alcohol abuse
Smoking
Drug addiction
Clotting disorders
High blood pressure or heart disease
Kidney disease
Poor nutrition
In 2014, The Toronto star reported that the use of Zofran and generic equivalents had been linked to dozen of reports involving birth defects and other complications when used to treat expectant mothers suffering from morning sickness. These reports included a half dozen cases of fetal growth restriction where Zofran was suspected as the cause.
Complications Associated with Fetal Growth Restriction
Fetal growth restriction increases the risk for pregnancy and newborn complications. A baby suffering from this condition may become more stressed during labor, and is more likely to require delivery by C-section. Intrauterine growth restriction also increases the chances that a baby will die while in the womb.
Zofran in Pregnancy
The FDA lists Zofran in Pregnancy Category B, which indicates that the medication has not been well studied in pregnant women. A growing number of Zofran birth defect lawsuits claim that GlaxoSmithKline has aggressively marketed the drug as an appropriate treatment for pregnancy-related nausea and vomiting, despite never having conducted a single human clinical trial to test its effects on a developing fetus. Plaintiffs also claim that the company has received numerous reports of birth defects and pregnancy complications potentially associated with Zofran, but withheld this information from the public and medical community. Read More
Zofran Litigation News
October 2015: Dozens of Zofran lawsuits have been centralized the U.S. District Court, District of Massachusetts, for the purposes of coordinated pretrial proceeding. By November 2015, more than 100 such cases had been filed in the proceeding on behalf of children who were allegedly born with Zofran-related birth defects due to their mothers' use of the drug in the first trimester of pregnancy. Read More
Contact a Zofran Lawyer Today
The nationwide law firm of Bernstein Liebhard LLP is now offering free, no-obligation legal reviews to any family whose child suffered birth defects or other complications that may be associated with pre-natal Zofran exposure. To arrange for your confidential case consultation, please call (888) 994-5118 today.
Last Modified: January 6, 2016