Transvaginal Mesh
Transvaginal mesh belongs to a class of net-like implants designed for women whose pelvic floor muscles may have weakened over time, oftentimes due to multiple childbirths, a hysterectomy and/or menopause. The purpose of these devices is to treat such conditions as pelvic organ prolapse (POP) and stress urinary incontinence (SUI) in women. After being manufactured by such companies as American Medical Systems, Inc., C.R. Bard Inc., Boston Scientific, Corp. and the Johnson & Johnson subsidiary, Ethicon Inc., vaginal mesh has been the subject of government safety concerns, as well as product liability claims filed by individuals who allege serious and debilitating injuries caused by the devices.
Transvaginal Mesh Brands and Products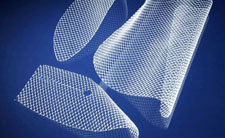 Johnson & Johnson's Ethicon unit, C.R. Bard Inc., American Medical Systems and Boston Scientific Corp. are considered a few of the most dominant transvaginal mesh manufacturers.
Following their approval into the U.S. market, the following products have been scrutinized for their safety and effectiveness:
Johnson & Johnson, Ethicon Inc.
Gynecare TVT Secur
Gynecare Prolift Kit
Gynecare Prosima Pelvic Floor Repair System
Gynecare Prolift + M Kit
C.R. Bard Inc.
Alyte Y-Mesh Graft
Avaulta Solo Anterior and Posterior
Avaulta Plus Anterior and Posterior
Pelvicol Acellular Collagen Matrix (Pelvicol Pelvisoft Tissue)
Pelvisoft BioMesh
Pelvitex
American Medical Systems
Apogee
Perigee
Elevate Anterior and Posterior Repair
InteXen
IntePro
The Straight-In
IntePro
Elevate with InteXen LP
Boston Scientific, Corp.
Pinnacle Pelvic Floor Repair Kit
Uphold Vaginal Support System
Uphold Vaginal Support System
Polyform Synthetic Mesh
Uphold
Arise
A number of these pelvic mesh devices have also been blamed for injuries allegedly sustained by thousands of women in transvaginal mesh lawsuits. If you would like a free case review and would like to speak to an attorney, please contact us now to go over your potential claim.
Vaginal Mesh: A Background
The U.S. Food and Drug Administration (FDA) estimates that in 2010 alone, a total of 75,000 women underwent transvaginal mesh procedures. That year, a press release posted on the agency's website indicated that 1,503 adverse event reports had been filed since 2008 by women who were implanted with the material for POP repair. These complaints noted instances of organ perforation, mesh erosion through the vaginal tissue, as well as infection, bleeding, and urinary problems, according to the FDA's database.
Since then, the FDA has released several vaginal mesh alerts. The first was issued in 2008, and categorized these risks as "rare." This statement was revised in 2011 to "not rare" after the agency logged a total of 3,000 mesh complication reports, seven of which included death.  The risk for mesh complications was then categorized as "not rare."
Also in 2011, an FDA convened a panel of outside experts to discuss the dangers of surgical mesh. An advisory panel of outside experts was brought in to weigh the evidence, and its participants determined that the implants should be reclassified as Class III devices. This would require manufacturers to submit their products for more rigorous testing to receive pre-market approval.
In January 2012, the FDA followed up this warning with an order for transvaginal mesh manufacturers to produce post-market safety data on their devices in order to continue selling them. Despite its repeated notices, the FDA has not issued a universal recall of surgical mesh.
Surgical Mesh Lawsuits
U.S. court documents indicate that over the past decade, more and more women have come forward to file surgical mesh lawsuits. In the U.S. District Court, Southern District of West Virginia, records show that 40,000 cases are now pending in separate federal multidistrict litigations established there. Federal multidistrict litigations like this are created by the U.S. Judicial Panel on Multidistrict Litigation (JPML) when a number of individuals have filed similar product liability actions against a single product and/or company. They are designed to conserve the resources of the court, and to avoid conflicting rulings from judges.
In the case for transvaginal mesh, plaintiffs who have filed lawsuits in the above multidistrict litigations allege that they were inadequately warned about side effects that may have been associated with implants they received.
Thousands of lawsuits have also been consolidated in two separate litigations involving Ethicon's line of Gynecare implants and C.R. Bard's Avaulta mesh in New Jersey's Atlantic County Superior Court, court documents indicate.
Last Modified: August 14, 2014