Testosterone Treatments
Testosterone is a hormone that plays a major role in the development of male sex characteristics. It also contributes to muscle mass, hair growth, bone density, and red blood cell production. Testosterone levels in men begin to increase in puberty, and reach their maximum around age 40. As a man gets older, the hormone will gradually decline as part of the natural aging process.
Testosterone therapy is designed to help men with hypogonadism (low testosterone) increase levels of the hormone. In 2000, AndroGel became first testosterone therapy approved for sale in the U.S. Today, more than a half-dozen name-brand medications make up this drug class, including:
Androderm
Axiron
Bio-T-Gel
Delatestryl
Depo-Testosterone
Fortesta
Striant
Testopel
Driven by promises that testosterone gels, injectables and patches can improve muscle mass, boost memory and concentration, restore libido, and increase energy levels, prescriptions for testosterone therapies have doubled since 2006, reaching 5.6 million in 2012. By 2017, sales of these medications are expected to reach $5 billion
Testosterone Therapy Risks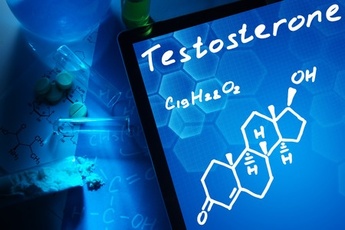 The growing popularity of testosterone therapy has some medical experts worried. Among other things, critics point out that these medications are only approved to treat men who suffer from hypogonadism caused by an underlying medical condition. None of these drugs has ever been approved to treat low testosterone levels merely associated with aging. There is concern that growing demand for testosterone drugs will lead to overuse, and could put many men at risk for dangerous side effects.
Some evidence suggests that a substantial number of men might be using testosterone drugs even though they have no medical need for such treatment. For example, in June 2013, a study published in JAMA Internal Medicine reported that a quarter of patients being treated with drugs like AndroGel had never undergone a blood test to confirm that they actually suffered from low testosterone.
In January 2014, the U.S. Food & Drug Administration (FDA) announced it was reviewing the safety of testosterone therapy, after two studies raised concerns about heart risks potentially associated with the medications. One study, which involved 55,000 patients, indicated that testosterone drugs could double the risk of heart attacks in men aged 65 and older. In younger men, the risk was tripled among those with a history of heart disease. The second study cited by the FDA found a 29 percent increased risk of heart attack, stroke or death among older men treated with the drugs.
The FDA's announcement prompted the consumer group, Public Citizen, to request that the FDA add a black box warning about cardiovascular risks to all prescription drugs approved to treat low testosterone. The Endocrine Society, a prominent medical group, has called for more large-scale studies to investigate the heart side effects potentially associated with testosterone therapy. The Society also recommended that doctors avoid prescribing these medications to any man who suffered a significant cardiovascular event in the preceding six months. Finally, the group urged doctors to advise their patients of the drugs' potential risks, especially men who are considering testosterone therapy to remedy age-related declines of the hormone.
By April 2014, dozens of testosterone lawsuits had been filed in U.S. Courts on behalf of men who allegedly suffered heart attacks, strokes, blood clots, heart failure and other cardiovascular problems because of testosterone therapy. Since millions of men have used these drugs over the past decade, legal experts believe the number of claims could eventually rise into the thousands. If you would like a free case review and would like to speak to an attorney, please contact us now to go over your potential claim.
Last Modified: January 6, 2016