Talcum Powder Class Action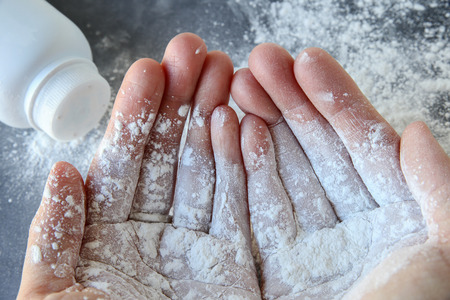 Johnson & Johnson is facing thousands of lawsuits over the alleged link between its talcum powder products and ovarian cancer. Plaintiffs who have filed talcum powder class action lawsuits and individual cases argue that the company failed to provide consumers with adequate safety warnings out of a desire to protect profits from its Baby Powder and Shower-to-Shower franchises.
Contact an Attorney Today
The nationwide law firm of Bernstein Liebhard LLP is now investigating legal claims involving talcum powder and ovarian cancer. To learn more about filing a talcum powder class action or individual lawsuit, please contact our office today by calling (888) 994-5118.
Johnson & Johnson Talcum Powder Litigation
As of April 2017, Johnson & Johnson was named in more than 3,000 talcum powder lawsuits, all of which had been filed on behalf of women who allegedly developed ovarian cancer due to the long-term use of the company's talc-based powders for feminine hygiene purposes. Talcum powder litigations are currently underway in state courts in Missouri, Delaware, California and New Jersey. The U.S. District Court, District of New Jersey is also overseeing a multidistrict litigation established for federally-filed Johnson & Johnson talcum powder lawsuits.
Plaintiffs involved in these lawsuits claim that talc particles can enter the vagina and migrate to the ovaries when talcum powder is applied to the female genitals. Over time, this results in the type of inflammation that promotes the growth of ovarian cancer cells. Plaintiffs also charge that Johnson & Johnson has long been aware of studies dating back to the 1970s that suggested genital talc use could increase a woman's risk of ovarian cancer. Their lawsuits cite several Johnson & Johnson internal documents that plaintiffs claim prove the company failed to warn consumers of this risk in order to protect profits from its talcum powder products.
One of the nation's largest talcum powder litigations is located in Missouri's 22nd Circuit Court for the City of St Louis, where five cases have gone to trial since early 2015. Johnson & Johnson has prevailed in just one of these cases.  Plaintiffs in the other four trials were awarded $110 million, $72 million, $70 million and $55 million.
How Would a Class Action Lawsuit Work?
In the case of a talcum powder class action, one plaintiff – usually the first plaintiff to sign on to the lawsuit — would be designated the class representative.  During the course of the litigation, the class representative has total authority to act on behalf all other class members. Decisions left to the discretion of this individual include the choice of attorney and whether to settle the lawsuit. Any funds recovered as part of a class action settlement would be shared equally among class members. However, the class representative would receive a larger payment in return for their more extensive role in the case.
Class action lawsuits are an ideal vehicle for large groups of plaintiffs who have experienced near-identical damages due to the same product. If the case is resolved in plaintiffs' favor, compensation may include refunds or rebates to reimburse consumers for purchasing the product. If a class action involves an illness related to the use of the product, the settlement may also include funds to set up a health monitoring program for those who have not yet become sick but face a risk of illness in the future.
All of the talcum powder plaintiffs awarded damages thus far were pursuing individual lawsuits against Johnson & Johnson. Women who developed ovarian cancer allegedly related to genital talc use generally incurred physical, financial and emotional damages of varying severity. It's unlikely that the type of compensation available via a class action lawsuit would make these plaintiffs whole. An individual talcum powder lawsuit probably offers these individuals the best chance to obtain fair compensation.
Contact an Attorney to Learn More About Your Legal Options
The attorneys at Bernstein Liebhard LLP are offering free legal reviews to women who may have developed ovarian cancer due to Johnson & Johnson talcum powders. Please call (888) 994-5118 to discuss your case with a member of our legal team today.
Last Modified: July 6, 2017