Stelara Cancer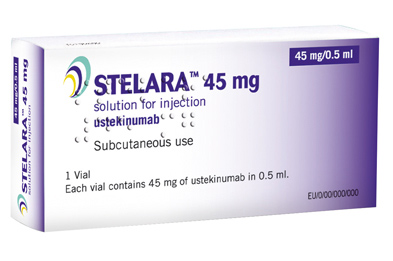 Immunosuppressive drugs used to treat psoriasis may be associated with an increased risk of cancer, including breast, prostate and non-melanoma skin cancer. However, a recent analysis suggests that Stelara patients may be at an even higher risk for malignancies compared to patients using other psoriasis treatments, such as Enbrel, Remicade and Humira.
Stelara Cancer Lawsuits under Review
The nationwide law firm of Bernstein Liebhard LLP is investigating the possible link between Stelara and cancer. If you or a loved one were diagnosed with any form of cancer that could be associated with Stelara, please contact our office today at (888) 994-5118 to learn more about your legal rights.
Stelara Label Warnings
Stelara is the first and only interleukin 12/23 inhibitor approved for use in the U.S. It is indicated  to treat adults with plaque psoriasis, psoriatic arthritis, or Crohn's disease. Stelara targets the immune system, and inhibits two proteins, IL-12 and IL-23, in order to reduce the inflammation that causes the symptoms associated with these diseases.
Since its launch in 2009, the Stelara label has undergone two updates relating to cancer. In January 2013, the "Warnings and Precautions" section of the prescribing information was modified to note post-marketing reports of  the rapid appearance of multiple cutaneous squamous cell carcinomas in patient who had pre-existing risk factors for developing non-melanoma skin cancer. The label advised that all patients receiving Stelara should be monitored for the appearance of non-melanoma skin cancer. Patients greater than 60 years of age, those with a medical history of prolonged immunosuppressant therapy and those with a history of PUVA treatment should be followed closely.
In May of that year, the label's "Adverse Reactions," the Stelara label was updated to state the following:
Malignancies

In the controlled and non-controlled portions of psoriasis clinical trials (median follow up of 3.2 years, representing 8998 subject-years of exposure), 1.7% of STELARA-treated subjects reported malignancies excluding non-melanoma skin cancers (0.60 per hundred subject-years of follow‑up). Non-melanoma skin cancer was reported in 1.5% of STELARA-treated subjects (0.52 per hundred subject-years of follow-up) [see Warnings and Precautions (5.4)]. The most frequently observed malignancies other than non-melanoma skin cancer during the clinical trials were: prostate, melanoma, colorectal and breast.
ISMP QuarterWatch Report
In April 2016, an analysis conducted by the Institute for Safe Medication Practices suggested that the risk of cancer among patients using Stelara was 15 times higher than those taking another psoriasis treatment called Otezla, which does not have an immunosuppressant effect. By contrast, patients using immunosuppressant TNF blockers like Enbrel, Remicade and Humira were only five times more likely to develop cancer compared to Otezla users.
For the review, the ISMP looked at all adverse event reports made to the U.S. Food & Drug Administration (FDA) database during the 12 months ending September 30, 2015. Stelara was named in a total of 3,250 adverse events during that time, of which 296 (9.1%) involved cancer. TNF blockers were associated with 25,920 reports in total, including 882 (3.4%) cancer cases. The most frequently reported cancers for psoriasis medications overall included non-melanoma skin cancers, prostate cancer, and breast cancer.
Free Stelara Legal Reviews
The legal team at Bernstein Liebhard LLP is now evaluating potential legal claims involving Stelara and cancer. To learn more about the legal options available to you, please call (888) 994-5118.
Last Modified: February 14, 2017