Risperdal
Risperdal is a widely-used antipsychotic drug prescribed to treat bipolar disorder and schizophrenia, among other conditions. Manufactured by Johnson & Johnson and marketed by its subsidiary, Janssen Pharmaceuticals, Inc., the medication has garnered billions of dollars in sales since entering the market in 1993. Its list of uses approved by the U.S. Food and Drug Administration (FDA) includes the treatment of schizophrenia and bipolar disorder in adults and adolescents ages 10 and 17, as well as irritability in children between 5 and 16 who have autism. According to research, Risperdal is also frequently prescribed off-label to individuals with ADHD. Like other atypical antipsychotics, the drug works by targeting serotonin and dopamine receptors in the brain.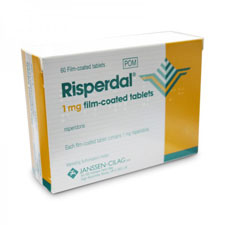 According to a growing number of studies, however, this medication may cause serious side effects including gynecomastia, a condition categorized by male breast growth, as well as diabetes and movement disorders. A 2006 study in the Journal of Clinical Psychopharmacology found that gynecomastia injuries may stem from Risperdal's potential to overproduce prolactin, a hormone normally associated with breast development in girls and lactation in nursing mothers. As a result, users of the medication may experience breast sizes as large as D cups. Men and young boys who may have taken Risperdal, which is also sold under the name, Risperidone in its generic form, may be suffering from gynecomastia if they are experiencing the following symptoms:
Swelling
Pain
Tenderness
Nipple discharge in one or both breasts
Individuals who have gone on to file lawsuits allege that mastectomies and lactation procedures may be necessary to reverse male breast growth that may have been caused by use of the drug.
Lawsuits over Risperdal, Risperidone
According to court documents, more than 200 Lawsuit claims have been filed over Risperdal, including dozens of gynecomastia lawsuits alleging that Johnson & Johnson and Janssen failed to warn the general public about the risk for male breast development and other injuries caused by Risperdal. These cases are currently pending in a consolidated litigation underway in Pennsylvania's Philadelphia Court of Common Pleas.
Johnson & Johnson's Antipsychotic Drug Settlement Makes Headlines
Amidst these court filings, Risperdal was recently involved in a monumental settlement between Johnson & Johnson and the U.S. Department of Justice. Reached in November 2013, the agreement involved federal accusations that the manufacturer promoted Risperdal, along with certain other medications, for uses not approved by the FDA. The findings of a U.S. government probe show that elderly patients with dementia and children were among the demographics targeted for use of the medication, which did not receive clearance for pediatric uses until 2006. To settle the criminal and civil penalties brought against them, Johnson & Johnson agreed to pay more than $2.5 million in damages. If you would like a free case review and would like to speak to an attorney, please contact us now to go over your potential claim.
The findings of a Consumer Reports investigation published the following month indicated that the use of Risperdal and other antipsychotic medications has skyrocketed in children over the past 10 to 15 years. Rather than being prescribed for bipolar and schizophrenia, the medications have been increasingly used to treat behavior problems. In the December 2013 report, Consumer Reports goes on to raise concerns about whether this increased use of antipsychotic drugs will have a negative effect on children.
Risperdal and Pregnancy
In August 2016, the findings of a study published in JAMA Psychiatry suggested that babies born to women who take Risperdal during the early months of  pregnancy may be more likely to suffer from birth defects. Drawing from a Medicaid pregnancy database, the authors of the paper  identified 9,248 women who had filled a prescription for atypical antipsychotics, such as Risperdal, during their first trimester of pregnancy. Another 733 had filled a prescription for a typical antipsychotic during the same period.  Those subjects were matched to similar women who were not taking antipsychotics during their pregnancy.
After adjusting for other factors that might make congenital abnormalities more likely, the researchers concluded that the majority of antipsychotic medications were not associated with an increased birth defect risk. The only exception was risperidone, the active ingredient in Risperdal. The analysis suggested that pregnant women who used this medication were 26% more likely to have a baby with birth defects compared to women who did not.  Read More
Last Modified: August 30, 2016