Lidocaine
Parents have been warned by U.S. regulators against treating their baby's teething pain with topical viscous lidocaine, a local anesthetic used to numb areas of the mouth in some dental procedures.
According to a U.S. Food and Drug Administration (FDA) announcement on June 26, 2014, a Boxed Warning has been added to the labeling of prescription oral viscous lidocaine 2 percent solution to alert parents that treating infants and children with teething pain with the medication could result in serious harm and even death. Given these risks, health care professionals should not prescribe the numbing medication, which is also known as xylocaine, for teething pain. Caregivers should instead follow recommendations from the American Academy of Pediatrics (AAP) in regard to teething pain.
According to the AAP, caregivers should:
Use a teething ring chilled in the refrigerator (not frozen).
Gently rub or massage the child's gums with your finger to relieve the symptoms.
As per the FDA warning, topical pain relievers are not useful in young children and infants because they wash out of the baby's mouth shortly after they are rubbed on to the gums. If too much of the solution is swallowed, an infant may experience seizures, problems with the heart and/or serious brain injuries. If the incorrect amount of the viscous lidocaine is administered, an overdose in infants and children may result in hospitalization and/or death.
FDA Reviews Viscous Lidocaine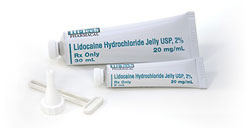 The FDA alert in June followed a review of 22 adverse event reports involving the use of viscous lidocaine 2 percent solution in infants and children between 5 months to 3.5 years of age. The reports were all submitted prior to December 2013, and noted six deaths and 11 hospitalizations. Five of the 22 reports involved teething pain, the federal agency said, but all followed the treatment of mouth pain and stomatitis.
Following these results, the FDA is requiring additions to the Warnings and Dosage and Administration label on viscous lidocaine to include further dosing instructions and note the risk for serious side effects.
The same day a Boxed Warning update was issued by regulators, MedPageToday.com published an article indicating that oral viscous lidocaine in infants was not uncommon, with approximately 40,000 prescriptions written each year between 2008 and 2012.
According to MedPageToday.com, oral use of Lidocaine often leads to ingestion that cannot be controlled or predicted.
Last Modified: August 14, 2014