Drug and Medical Device Lawsuits
Medical products injure 1.5 million consumers every year, resulting in more than $4 billion in medical bills and other damages. Like any company, those involved in the drug and medical device industries have a duty to ensure that their products are safe and effective, and they must provide doctors and patients with adequate warnings about their risks. When a patient is harmed, they may be entitled to compensation for injury-related damages. Pursuing a lawsuit against those who marketed, manufactured and distributed a dangerous drug or medical device is often the most effective way to ensure that proper restitution is made.
How to File a Lawsuit
If you experienced serious or life-threatening side effects after exposure to a defective drug or medical device, you may be eligible to seek compensation for out-of-pocket medical expenses, lost wages, as well as any pain and suffering you may have been caused. It is imperative that you choose the right lawyers to help successfully litigate your potential case.
Choosing the Right Product Liability Lawyer
When you start the process of filing your case, you want an attorney who is well-versed in this area of law, and understands the difficulty of your situation. Armed with experience and dedication, the right attorney can walk you through the legal process.
Class Action vs. Individual Lawsuit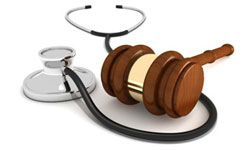 A class action lawsuit involves similar claims brought together by several plaintiffs. These cases may include a group of individuals who suffered the same injuries from a particular product. A multidistrict litigation may coordinate a number of lawsuits in a single proceeding. It may be in your best interest to file an individual lawsuit, rather than join a class action, however, as these claims are designed to equalize financial losses of numerous members of the case.
Legal FAQs
If this is your first time filing a lawsuit, it is likely that you may be curious about how much compensation you may expect to receive, how long you have to file a claim, how much you will be asked to pay in legal fees, and other areas of the legal process. InjuryBeacon works to get those questions answered.
Save
Save
Last Modified: November 17, 2022