IVC Filter Lawsuit
Scores of people have filed IVC Filter lawsuits against C.R. Bard Inc. and other companies that manufacture and market retrievable inferior vena cava (IVC) filters. These devices, which are intended to prevent blood clots from traveling to the lungs and causing a pulmonary embolism, are allegedly associated with unacceptably high rates of fracture, breakage, and migration. These issues may result in a range of life-threatening complications, including: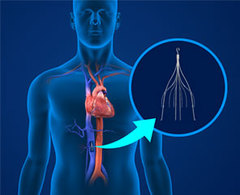 Internal bleeding
Cardiac tamponade
Severe pain
Puncture of the Inferior vena cava
Pulmonary embolism
Respiratory distress
Deep vein thrombosis in lower limbs
Death
Individuals who sustained serious injuries as a result of a C.R. Bard IVC filter or similar device may be entitled to compensation for their related medical bills, lost wages, pain and suffering, and more. If you are interested in pursing a claim for an IVC filter injury, please contact one of our legal experts to learn more about the options available to you.
Litigation Involving C.R. Bard IVC Filters
The litigation involving C.R. Bard IVC filters centers on its G2 and Recovery products. Both are retrievable filters that are implanted into the inferior vena cava where they "catch" blood clots in order to prevent the formation of pulmonary emboli. The devices are indicated for use in patients who are unable to take blood thinners, or when anticoagulant therapy has failed. Once the danger of pulmonary embolism has passed, the filters should be removed.
C.R. Bard IVC Filters: Alleged Safety Issues
The Bard Recovery filter was introduced in 2002. However, IVC filter lawsuit plaintiffs claim that the Recovery device began to exhibit problems shortly after it was launched on the market. Among other things, they point to a number of studies that suggest the Recovery filter's failure rate stands between 21% and 31.7%: The complaints further allege that these malfunctions were due to the filter's legs or strut fracturing and migrating to other parts of the body, including the heart and lungs.
The G2 IVC Filter System was introduced by C.R. Bard in 2005, and touted as an improvement over the Recovery product. However, according to a 2010 study published   in the Archives of Internal Medicine, the Bard G2 IVC filter fracture rate was 12%.
In 2010, the U.S. Food & Drug Administration (FDA) disclosed that it had received more than 900 reports of IVC filter failures involving retrievable devices such as those marketed by C.R. Bard. More than 300 involved problems associated with the migration of the filter, while 70 patients reportedly sustained punctures of the inferior vena cava due to fracturing or displacement of the filter.
NBC News Investigates Bard IVC Filters
September 2015: NBC News airs a two-part investigative report on Bard's Recovery IVC filter, finding that 300 adverse events, including at least 27 fatalities, had been associated with their use.  The report also uncovered a confidential study commissioned by the company in 2004 that linked the Recovery filter to higher rates of death, fracture and movement compared to its competitors. Read More
December 2015: NBC News investigate problems with the G2 IVC filter series, which replaced the Recovery filter in 2005. The network links G2 failures with 12 deaths, and reveals documents indicating that Bard officials were aware of its safety issues within months of its FDA approval. Read More
Study Links Unretrieved Blood Clot Filters to IVC Thrombosis
A study published in a March 2016 issue of  JACC: Cardiovascular Interventions suggested that an increase in IVC thrombosis may be linked to untretrieved IVC filters. This complication can lead to post-thrombotic syndrome in up to 90% of patients, venous claudication in 45%, pulmonary embolism in 30%, and venous ulceration in 15%. In light of these significant risks, the investigators recommended that doctors plan to remove IVC filters as soon as medically possible.  Read More
Learn More about Filing Your Own IVC Filter Lawsuit
Attorneys around the country are now offering IVC filter lawsuit reviews to individuals who may have been harmed by C.R. Bard's Recovery and G2 products. To learn how you can pursue legal action of your own, please callfor a free, no-obligation case review.
Last Modified: September 29, 2016