IVC Filter Chest Pain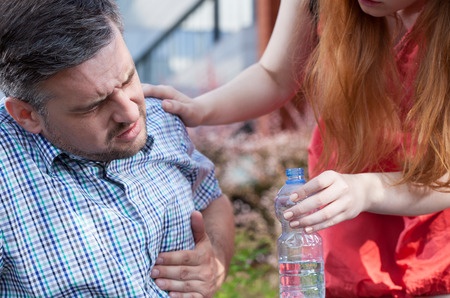 Patients implanted with a retrievable IVC filter should be aware that chest pain could be an indication that something may have gone wrong with the device. This symptom often occurs when the filter fractures, and pieces of the implant travel to the heart, lungs and other parts of the body.
IVC Filter Lawsuit Investigation
The nationwide law firm of Bernstein Liebhard LLP is investigating injuries and complications allegedly related to IVC filter fracture and migration. To discuss your case with one our qualified medical device attorneys, please call (888) 994-5118 to learn more.
Retrievable IVC Filters and Chest Pain
An IVC filter is used to prevent pulmonary embolism in patients who cannot use standard anticoagulant medications. They are implanted into a patient's inferior vena cava, where the filter will block blood clots so that they are unable to make their way to the lungs. Retrievable IVC filter are intended to be temporary, and should be removed once a patient no longer faces a threat from blood clots.
In most cases, chest pain is the first sign that something has gone wrong with an IVC filter. The pain may range from constant to intermittent, and it may be accompanied by:
Heart palpitations
Rapid heartbeat
Nausea
Dizziness
Shortness of breath
Abdominal pain
Heavy sweating
IVC filter patients should seek emergency medical attention if they experience any chest pain, as this can be a symptom of major complications. It is especially important to seek help if you experience:
Severe chest pain that doesn't go away
Crushing, squeezing, tightening, or pressure in the chest that comes on suddenly
Chest pain that suddenly worsens
Complications that are likely to cause IVC filter recipients to suffer chest pain include:
Movement of the filter
Fracture or breakage of the filter
Blockage of the inferior vena cava
Perforation of the inferior vena cava or heart
FDA Warns of IVC Filter Complications
In 2010, the U.S. Food & Drug Administration (FDA) revealed that more than 920 IVC filter complication reports had been collected by it adverse events database since 2005, some of which led to serious patient complications. These included:
More than 320 instances of IVC filter migration
146 reports of embolization
70 cases of filter perforation
56 filter fractures
These reports involved retrievable IVC filters, which are intended to be removed once the threat of pulmonary embolism has passed. The FDA expressed concern that many of the reported incidents were the result of retrievable filters that had been allowed to remain in patients' bodies.
Just four years later, the FDA issued a second alert regarding the importance of retrieving IVC filters.
IVC Filter Litigation
Two multidistrict litigations have been established in federal courts for product liability claims involving IVC filters manufactured by C.R. Bard, Inc. and Cook Medical, Inc.
August 2015: Federally-filed Bard IVC filter lawsuits have been centralized in the U.S. District Court, District of Arizona. . Plaintiffs claim that Bard failed to warn doctors, patients and regulators that certain of its retrievable IVC filters were likely to cause serious injury, and continued to promote the devices even after studies highlighted their potential risks. Read More
October 2014: More than 2 dozen Cook IVC filter lawsuits have been consolidated in a federal multidistrict litigation now underway in the U.S. District Court, Southern District of Indiana.
Do I Qualify to File an IVC Filter Lawsuit?
Individuals who allegedly suffered serious complications due to a Bard or Cook retrievable IVC filter may be entitled to compensation for medical bills, lost wages, pain and suffering, and other damages. To learn more about filing a claim in either of these proceedings, please contact Bernstein Liebhard LLP today at (888) 994-5118.
Last Modified: February 24, 2016