Invokamet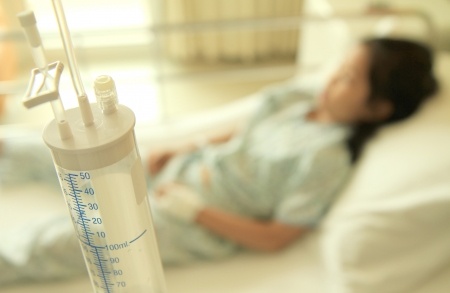 Invokamet is a Type 2 diabetes drug that contains canagliflozin (the active ingredient in Invokana) and metformin. It belongs to a class of medications called  sodium-glucose co-transporter 2 (SGLT2) inhibitors, which have been linked to a dangerous condition called diabetic ketoacidosis.
How Does Invokamet Work?
Invokamet is used in conjunction with diet and exercise to control blood glucose levels in people with Type 2 diabetes. The drug is manufactured by Johnson & Johnson, and was approved by the U.S. Food & Drug Administration (FDA) in 2014, roughly one year after the agency cleared Invokana. In the fourth quarter of 2014, sales of the Invokana/Invokamet franchise were approximately $200 million.
In 2016, Health Canada, the FDA's counterpart in that country, approved Invokamet for the treatment of Type 2 diabetes.
Invokamet is an oral medication that is usually taken twice per day with meals. The canagliflozin in Invokamet helps control blood sugar by preventing the reabsorption of glucose into the blood, thereby facilitating its elimination via the kidneys. Metformin helps decrease the amount of sugar produced by the liver, and improves the body's response to insulin.
Invokamet Side Effects
The most common side effects associated with Invokamet include:
Dehydration and thirst
Discomfort during urination
Increased urination
Increased Cholesterol
Kidney problems
Low blood sugar
Urinary tract infections
Yeast infections in men and women
Invokamet Recall
Johnson & Johnson issued an Invokamet recall in October 2016 for more than 5,000 bottles of the medication. According to a notice posted on the FDA's website, the affected bottles may be incorrectly labeled with prescribing information for Xarelto. Read More
Invokamet Black Box Warning
Because Invokamet contains metformin, its label includes a Black Box Warning regarding lactic acidosis. This potentially dangerous condition occurs when lactic acid builds up in the bloodstream faster than it can be removed. Symptoms include nausea and weakness. Invokamet patients should seek emergency medical attention if they suspect that they are experiencing lactic acidosis.
Invokamet and Diabetic Ketoacidosis
In May 2015, the FDA revealed that it was investigating a potential link between SGLT2 inhibitors and diabetic ketoacidosis. On December 7th, the agency announced that new information regarding a potential association with this complication would be included on the labels for Invokamet and other drugs in this class. According to the FDA communication, the  medications had been linked to 73 cases of ketoacidosis from March 2013 to May 2015.
Diabetic ketoacidosis is a potentially deadly condition caused by the accumulation of toxic acids called ketones in the blood stream. Patients using SGLT2 inhibitors should seek medical attention immediately if they experience any of the following symptoms:
Nausea
Vomiting
Abdominal pain
Tiredness
Trouble breathing
Invokamet and Kidney Failure
In March 2015, the Institute for Safe Medication Practices disclosed that canagliflozin had been cited in 457 adverse event reports its first year on the market. Of those, more than 50 involved cases of renal impairment or kidney failure.
In December 2015, the FDA revealed that its database had received 19 reports of life-threatening blood infections (urosepsis) and kidney infections (pyelonephritis) that started as urinary tract infections in SGLT2 inhibitor patients from March 2013 through October 2014. All of these patients required hospitalization, while a few required admission to an intensive care unit or dialysis in order to treat kidney failure. The reports prompted the agency to require the addition of  new adverse event information in the "Warnings and Precautions" section of the drugs' labels.  Read More
FDA Investigating Invokamet and Amputations
According to an FDA Drug Safety Communication issued on May 18, 2016, the agency has launched an investigation into leg and foot amputations (most of which affected the toes) that may be associated with the use of canagliflozin. The FDA acted after interim data from the  Canagliflozin Cardiovascular Assessment Study (CANVAS) found that such amputations occurred nearly twice as often in patients treated with canagliflozin compared to those who received a placebo. Read More
Last Modified: November 10, 2016