HeartStart MRx Monitor/Defibrillator Failure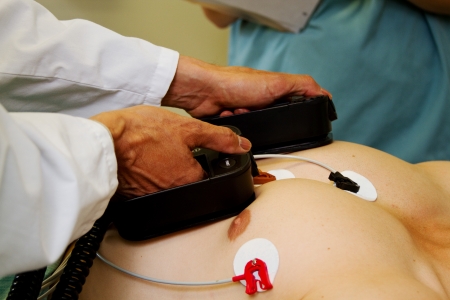 Tens of thousands of HeartStart MRx Monitor/Defibrillators were recalled in February 2017, due to battery and connection issues that could prevent the devices from performing as intended in an emergency situation. HeartStart MRx Monitor/Defibrillator failure can result in serious patient injury, and even death.
Obtain a Free Case Review
The failure of a HeartStart MRx Monitor/Defibrillator has the potential to cause serious brain injury, permanent organ damage and death. Individuals who experience these complications may be entitled to compensation for any injury-related damages they incurred. To learn if you might qualify to file a lawsuit, please contact the medical device lawyers at Bernstein Liebhard LLP by calling (888) 994-5118.
HeartStart MRx Monitor/Defibrillator Failure
Philip's Healthcare's HeartStart MRx Monitor/Defibrillator is designed for use by emergency medical personnel who have been trained in CPR. The device is intended to restart the heart in patients in cardiac arrest, and to pace the heart in those with bradycardia (slow heartbeat).
On February 24, 2017 Philips Healthcare issued an "Urgent Medical Device Correction" to warn customers of electrical and battery connection issues that could affect the normal operation of the device. A month later, the FDA declared a Class I recall – the most serious recall category – for HeartStart MRx Monitor/Defibrillators included in Philip's notification. The agency warned that failure of a HeartStart MRx Monitor/Defibrillator could stop the device from properly pacing patients with a slow heartbeat, or it may prevent the delivery of life-saving shock therapy to those experiencing cardiac arrest.
A total of 47,362 HeartStart MRx Monitor/Defibrillator were included in the recall. Affected devices were distributed from February 12, 2004 to November 4, 2016, and include the following model numbers:
M3535A (M3535ATZ)
M3536A (M3536ATZ)
M3536M
M3536MC
M3536M2
M3536M4
M3536M5
M3536M6
M3536M7
M3536M8
M3536M9
Philips is advising customers to check their device's model number, inspect the battery connector pins and contact the company for further information and support. The device maker indicated that it was in the process of "evaluating both software and hardware changes to prevent this abnormal device behavior."
Learn More about Filing a HeartStart MRx Monitor/Defibrillator Lawsuit
Individuals who may have been harmed due to failure of a HeartStart MRx Monitor/Defibrillator involved in this recall may be eligible to take legal action against Philips Healthcare. To get it touch with an attorney today, please contact Bernstein Liebhard LLP at (888) 994-5118.
Last Modified: May 2, 2017