GranuFlo Dialysis Recall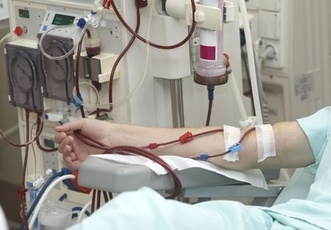 A GranuFlo recall that may have affected thousands of dialysis patients is now inspiring more individuals to file Granuflo dialysis lawsuits on their behalf. According to claims, use of the acid concentrate may be deadly, given its alleged association with sudden cardiac death, cardiopulmonary arrest, strokes, heart attacks and other side effects that typically occur within 72 hours of administration.
The GranuFlo and NaturaLyte recall was announced by the U.S. Food and Drug Administration (FDA) on June 25, 2012, at which time the federal agency warned that the dialysis treatment medications may pose serious danger to recipients, and may result in cardiovascular death. The FDA's public health alert was then categorized as Class I, its most serious category of recalls.
Side Effects Prompting the 2012 Dialysis Recall
Two months prior to the GranuFlo and NaturaLyte dialysis recall, Fresenius Medical Care issued an Urgent Product Notification that notified the general public of their products' association with heart injuries.
According to a notice on March 29, 2012, these side effects may stem from an increased amount of an ingredient the body converts to bicarbonate, which may cause the body's pH levels to rise. This condition is referred to as metabolic alkalosis, and has been linked to cardiovascular problems, muscle twitching, confusion, numbness, tingling, nausea and lightheadedness.
GranuFlo and NaturaLyte were originally designed by Fresenius to neutralize the acid that builds up during hemodialysis, a treatment for chronic kidney failure. It is estimated that prior to the 2012 dialysis recall, these medications were used in thousands of treatments administered at clinics owned by the company, as well as in 125,000 customer clinics throughout the U.S.
GranuFlo and NaturaLyte recall lawsuits now filed against Fresenius allege that its March 2012 alert was issued too late, however, and that the company had prior knowledge of problems associated with its products.
GranuFlo Recall Lawsuits
According to hundreds of federal lawsuits now pending in the U.S. District Court, District of Massachusetts, an internal memo sent by Fresenius in November 2011 warned of 941 patient deaths that occurred after GranuFlo and NaturaLyte usage. Physicians operating in clinics owned by the company were instructed to adjust dosages of the medications based on these findings, but doctors on the outside were not. Plaintiffs involved in the federal litigation underway in Massachusetts allege that Fresenius failed to warn the general public of these findings in a timely manner, and go on to say that its products were designed defectively.
Concealing this information may have also resulted in a federal investigation by the U.S. Food and Drug Administration (FDA), according to a New York Times report from June 2012. The federal agency is reportedly looking into whether Fresenius violated federal laws in its withholding of GranuFlo recall information.
Last Modified: January 6, 2016