Benicar Gastrointestinal Side Effects
Benicar, an angiotensin II receptor blocker (ARB) approved for the treatment of high blood pressure, has been linked to serious gastrointestinal problems, including sprue-like enteropathy and villious atrophy. Symptoms of these Benicar side effects, which often mimic those associated with Celiac disease, include:
Chronic Diarrhea
Severe Weight Loss
Vomiting and Nausea
Dehydration and Malnutrition
Benicar gastrointestinal disorders can develop weeks or even months after treatment with the drug has been initiated. While these problems can often be reversed when treatment with the medication is ended, some Benicar patients may develop severe intestinal damage that results in long-term health problems.
Benicar Complications
Benicar was first brought to market by Daiichi Sankyo, Inc. in 2002. Its active ingredient is olmesartan, which is also available in Ozar, Tribenzor, Benicar HCT, and various generic versions.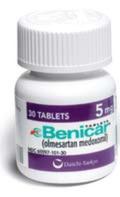 In May 2013, the Mayo Clinic released a study which suggested that patients treated with Benicar were at risk for serious gastrointestinal side effects. The study looked at 22 patients who were experiencing chronic diarrhea, weight loss and malnourishment. While their symptoms were thought to be associated with Celiac disease, they all tested negative for the disorder. However, all 22 patients were taking Benicar, and they all showed signs of improvement when treatment with the drug was ended.
In July 2013, the U.S. Food & Drug Administration (FDA) warned that Benicar, Benicar HCT and other forms of olmesartan had been linked to sprue-like enteropathy. The agency advised that patients who developed symptoms of this condition discontinue taking the drug if no other cause was found. The FDA also announced that it had approved changes to the labels of Benicar and other olmesartan products to address this concern.
In addition to sprue-like enteropathy, Benicar patients may also be at risk for a condition known as villous atrophy. This form of Benicar intestinal damage occurs when the villi of the intestines corrode and erode away. Villous atrophy can interfere with the body's ability to absorb nutrients and lead to an immune response that causes numerous food sensitivities.
Benicar Lawsuits
Benicar side effect lawsuits have been steadily mounting in U.S. courts since the FDA issued its safety communication in July 2013. These claims accuse Daiichi Sankyo of negligence in ensuring the drug was safe, and failing to warn patients that they could be at risk for serious Benicar gastrointestinal issues, including sprue-like enteropathy and villous atrophy. Plaintiffs in these claims are seeking compensation for a variety of damages they allegedly incurred due to Benicar, including:
Medical bills
Lost wages
Permanent disability
Pain and suffering
Emotional distress
If you or a loved one developed Benicar malnourishment, chronic diarrhea, severe weight loss or any other gastrointestinal condition that could be linked to this medication, it is important to consult with an attorney to learn more about your legal rights. For more information, please call the nationwide law firm of Bernstein Liebhard LLP for a free, no-obligation case review.
Last Modified: January 8, 2015